Sonjo during their their Mbaribali harvest celebration, Tanzania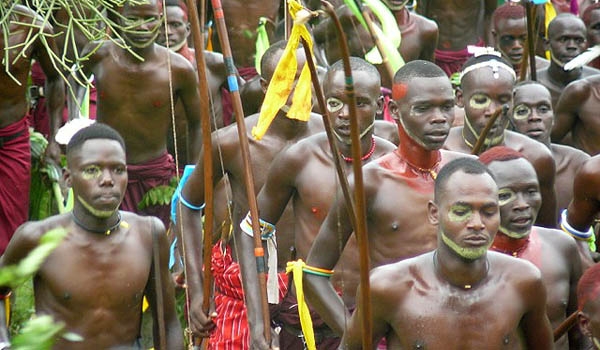 Cultural tourism can make a difference!
I am involved working with diverse rural ethnic communities in remote areas of the East African bush. When I first met them, I was fascinated by way they looked, lived and survived in the harsh African bush. I am still fascinated by them. As a Westerner in Africa for humanitarian relief purposes, I was concerned about their physical and cultural survival. As a student of culture, I was interested in them from an anthropological perspective. As I got to know them better, I wondered "How can I help them?"
A threat to a fragile lifestyle in a harsh, dry land
Global warming has negatively impacted all the land dependent rural peoples living in the sub-Sahara as herders, hunter-gatherers and farmers. Maasai pastoralist must graze cattle further and further from their communities in search of water sources and grazing land. Hadzabe bushmen have fewer wildlife to hunt and encroachment scares away their game. Datoga farmers must find new ways to irrigate their crops and their methods erode their topsoil.
I co-founded a company in Tanzania that introduces outsiders to meet these indigenous peoples as part of a broader itinerary that includes recreational activities and viewing Africa's big game in the Serengeti eco-system. They pay a fee for these culturally sensitive visits that goes directly their bush hosts. They also purchase their handmade crafts. This is not viewed as "charity," but rather as a new economy and supplemental income for the host culture (see Wildlife and More).
Critics of cultural tourism
Critics of cultural tourism are concerned visits to indigenous communities by Westerners can compromise the cultural integrity of traditional peoples. As their populations' dwindle and encroachment increases, this can accelerate the demise of these already fragile communal networks. It is feared that exposure to Western lifestyles and modern technologies will undermine their pre-modern and naturalistic ways of life.
It is true, this can happen. Just as endangered wildlife species require protection, so do endangered human cultures. Ironically, when a species or culture becomes rare, interest in them surges. In the wildlife kingdom, this has been the case with the rhino, elephant and mountain gorilla. But in the case of the rhino, elephant and mountain gorilla, the reason they are so rare is the result of poaching. With endangered human cultures, the reasons are more complicated.
Good and bad forms of cultural tourism
There are good and bad forms of cultural tourism. Bad cultural tourism takes but does not give. People take some pictures and then run off to see something else. The host feels exploited or confused by these rude people. Good cultural tourism helps the host culture gain greater control over their cultural destiny. It shows respect for them as human beings and involves patience listening to and learning from them.
I had some qualms about culturally "contaminating" these culturally rich but physically hungry people. The peoples we visit have no interest in becoming "Western." They cling to the way of life of their ancestors and want it to continue. Realizing the intrinsic relationship between physical and cultural survival, I figured if these people die from hunger or the other maladies caused by hunger, there will be no cultural survival.
As Western visitors interact with their bush hosts in natural and spontaneous ways (not staged), they hear their ancient myths, learn how they use their fauna and flora to survive and tell about how their historic lands have been taken from them, violating their land rights. As their lands shrink, they have less productive land. As a result, caring relationships develop.
How cultural tourism can positively impact the community visited
When our travelers return to their home countries, they post pictures and articles about the remote peoples they've met on Facebook, Pinterest, Instagram and other social media sites. They write blogs explaining the challenges these communities face, living outside the boundaries of modernity. Cultural visitors become like ambassadors educating and informing the outside world about their plight. As these ethnic peoples lack the kind of literacy needed to defend themselves within the countries they live, outsiders do this for them.
This exposure gets the attention of advocacy groups committed to the survival of indigenous peoples. It puts "at risk" peoples on the map of human watch groups. This is the kind of positive partnership cultural tourism can forge with traditional and distinctive communities in remote regions who are literally and figuratively "living on the edge."
Questions to ask your tour operator in advance of your culture visit

If you want an experiential cultural tour similar to the kind described above, here are some things you would want to ask your tour operator in advance: 
* How much time are you going to be with the community visited?If it is less than an hour, you won't have much of an opportunity to get to know the people you are visiting. It may just be a "photo op." 
* What will actually be taking place while you are with the community? Will it be a series of rehearsed performances or will you be participating in their daily communal life in some way? 
* Will the people you meet actually be members of the ethnic group being presenting or are they just actors? 
* Will you be seeing a pre-scripted event or will you be having an interactive personal experience with your hosts?  
* Who is sponsoring the visit? Is it being designed and present by the ethnic community itself or the national government, the ministry of tourism or an outside for-profit company? The sponsorship will effect what you see.
*Will your guide at the community know the language of the people being visited? If so, are they proficient in your language?
* Are the people you visit compensated for their hospitality? 
---
Sources and credits
About the author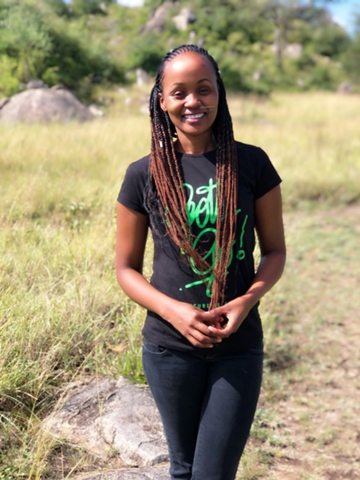 Lilian Kramer
Has been on: 17 safaris
I am a creative and visionary individual with a wide range of knowledge in various aspects of the tourism industry and safari tours in Tanzania and throughout East Africa. The skill sets I have been applying to the travel industry for over the past 10 years include leadership and management expertise, organizational collaboration, excellent communication skills, travels throughout East Africa, Middle East and Europe, skills and experience in social work and her studies of cultural anthropology. Through my vivacious personality and travel industry knowledge I have assembled a dynamic, hardworking and committed team of professionals who are specialists in various fields within the travel and tourism industry. Through hard work, perseverance and excellent customer service we have built Zohar African Safaris keeping customer satisfaction and well-being at the core of our business. Today, Zohar African Safaris is small boutique Safari Company that not just tracks wildlife but also takes you to away from the crowds in East Africa for an authentic bush experience, or so our customers say.
Share on:
© Your African Safari Ltd, All rights reserved.