Hadzabe Bushmen meet in the communal cave at 6am, preparing to hunt in Tanzania's Rift Valley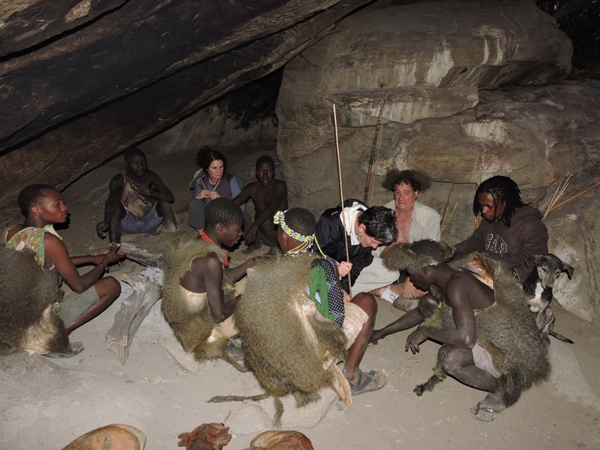 Up a baobab tree without a bottle: hunting with the last bushmen on earth
Hunting with the Hadzabe in Tanzania's Rift Valley
During the dry season when the Hadzabe bushmen who have been living in Tanzania's Rift Valley since the last Ice Age get thirsty hunting game, they simply look for the nearest baobab tree. Once found, three bushmen wearing baboon skins scurry 50 feet up its trunk in their bare feet. I had no idea what they were doing at first. In about two minutes they reach the point the giant baobab, about 45 feet in circumference, splits into separate smaller trunks. They locate a hollow in the baobab's cork-like bark that has rainwater trapped within it. These hollows in the baobab bark can hold up to 50 gallons of water.
They lower one of the smaller bushmen, holding him by his ankles, into this hollow pocket within the tree. While dangling upside down, he scoops water into the drinking gourd he is holding. When done, his hunting mates lift him up and out of this dark cavernous hole and they start drinking from the water goard joyfully. They get so excited quenching their thirst, they make baboon-like yelps between gulps. When done, they descend the baobab as quickly as they ascended it and hit the ground to hunt someore. 
The Hadzabe do this as unflinchingly as we go to a water fountain or effortlessly go to the refrigerator to grab a bottle of water or a cold beer. This kind of teamwork underlies the entire Hadzabe way of life. Not hesitating to hustle up a baobab for a drink of water is a taken for granted part of life as the Hadzabe know it. They must live and work as one well coordinated social organism, if they are to survive like their ancient ancestors in the Rift Valley's harsh environment.  Like other aspects of their life we would consider time consuming, ineffiecient and seemingly physically impossible, the Hadzabe make it look easy and have fun doing it.
I am thinking "what if they dropped their water-scooping tribesman into this watery pit?" Hadzabe can't swim and don't know how to tread water. They have no water rescue buoy ring to throw him if he accidently slipped out of their hands 50 feet up a tree. How would they get him out of what could be his watery grave? The Hadazbe don't seem worried at all about this risk and make no provisions for it happening. 
I pause in awe and wonderment as the Hadzabe go about their daily routines. Though they have physical hardships, including hunger from drought and illness from malaria, they live with zest and enthusiasm. They seem to have fine-tuned their way of life and have found a harmonic balance living within their natural environment. You can expereince the life of the Hadzabe and hunt and gather with them on many safaris, including ones by Zohar Safaris. 
---
Sources and credits
Dr Ken Firestone, Co-Founder & Managing Director for U.S. and Global Markets, Zohar African Safaris
About the author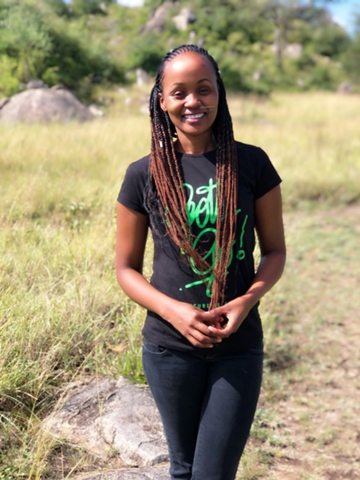 Lilian Kramer
Has been on: 17 safaris
I am a creative and visionary individual with a wide range of knowledge in various aspects of the tourism industry and safari tours in Tanzania and throughout East Africa. The skill sets I have been applying to the travel industry for over the past 10 years include leadership and management expertise, organizational collaboration, excellent communication skills, travels throughout East Africa, Middle East and Europe, skills and experience in social work and her studies of cultural anthropology. Through my vivacious personality and travel industry knowledge I have assembled a dynamic, hardworking and committed team of professionals who are specialists in various fields within the travel and tourism industry. Through hard work, perseverance and excellent customer service we have built Zohar African Safaris keeping customer satisfaction and well-being at the core of our business. Today, Zohar African Safaris is small boutique Safari Company that not just tracks wildlife but also takes you to away from the crowds in East Africa for an authentic bush experience, or so our customers say.
Share on:
© Your African Safari Ltd, All rights reserved.