***This company may have ceased operation and/or its website is not functional. Quote requests are disabled for this tour operator.***
Main focus:
Luxury safaris
Languages:
Dutch, English, German, Swahili
---
---
About African Wild Tours
African Wild Tours is a fully licensed safari company in Uganda operating in Uganda, Kenya, Tanzania and Rwanda. We organise gorilla safaris, wildlifetours and chimpanzee tracking tours,boat trips,mountain trekking tours, community visits, River Nile Excursions,Honeymoon tours and making Hotel Reservations. We arrange all these activities basing on our clients' interest and budget and time. We are an environmental friendly company and therefore tend to use those lodges that are eco friendly and strongly neglect ones run by hunting companies. All our Staff have visited the sites and therefore being in touch with us means being in touch with ones who know what is on the real ground. Feel free to get in touch for a free quote or travel advice.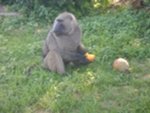 Visited: May. 2017
Reviewed: Oct. 10, 2020
This tour of Uganda certainly gave us a memorable taste of what Uganda has to offer for a tourist, so pleased that we by chance, browsed the internet and met Daniel. His communication before we arrived was regular and we felt like friends as soon as we met at the airport. He personalised our tour according to our interest in birds as well as being very knowledgeable about what African wildlife we would see and where it could be found. We had extensive game drives, morning and evening, whilst in the game parks. What he didn't know, we learned together as we researched reference materials. We felt we got excellent value for money with this personalised tour. Daniel has quite a lot of guiding experience, having worked for other companies prior to starting his own, so he knew how to give us combinations of experiences/places that gave us the best value for money and time. In each area where specialised guiding was required, Daniel sourced local guides such as happened in the Rwenzoris. Ignatius was in his local environment as he featured the area for us over three days. Daniel's driving was always vigilant and safe, keeping to low speeds at all times to avoid any dangers and be ready to stop for the many photographic opportunities. The vehicle was comfortable and capable for the wide range of roads and track conditions we encountered. The only drawback was a seal in the side door letting in dust which could be difficult to cope with at times. This was truely a wonderful camping experience for us and being used to tenting most of our lives the holiday was easy to manage with the packing and unpacking of a tent most days. However, I think as Daniel grows his business he should be able to invest in sturdier tents. As there was only two of us touring we sourced our food as we went along, from supermarkets and roadside stalls. It was up to us to take the initiative to let Daniel know what we would like to eat and drink as there were no set menus for each day. In some places we were able to have great restaurant meals. After crossing the Nile on a ferry, a baboon stole some of our food which gave us a good laugh as well as a laugh to some local onlookers. But being Uganda, shopping for food isn't always available, so this meant some extra driving the next day to purchase some more. We needed to visit some schools, staying for a month at one in Uganda and another in Kenya for eight days and Daniel modified the itinerary to suit these needs and made sure we were not reliant on public transport to find these out of the way places. We were very grateful to have the benefit of his experience.
---
{{ review.user.profile.user_type_display }}

Australia
Countries visited:
Visited: May. 2017
Reviewed: Jul. 04, 2017