***This company may have ceased operation and/or its website is not functional. Quote requests are disabled for this tour operator.***
Main focus:
Luxury safaris
Languages:
Dutch, English, German, Swahili
---
---
About African Wild Tours
African Wild Tours is a fully licensed safari company in Uganda operating in Uganda, Kenya, Tanzania and Rwanda. We organise gorilla safaris, wildlifetours and chimpanzee tracking tours,boat trips,mountain trekking tours, community visits, River Nile Excursions,Honeymoon tours and making Hotel Reservations. We arrange all these activities basing on our clients' interest and budget and time. We are an environmental friendly company and therefore tend to use those lodges that are eco friendly and strongly neglect ones run by hunting companies. All our Staff have visited the sites and therefore being in touch with us means being in touch with ones who know what is on the real ground. Feel free to get in touch for a free quote or travel advice.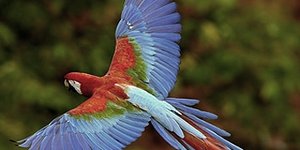 Visited: Dec. 2015
Reviewed: Jan. 10, 2018
It was early this year that I came back from Uganda. At first I did not know what to start with while planning our holiday. I contacted African Wild Tours and everything went right. We insisted to first deposit a small portion of the quoted price to just take care of the chimp permits and accommodation which they accepted. Since it was my second visit to Africa, I travelled with my family, two kids and my wife. We flew to Entebbe using Etihad Airways. On arrival we were picked by a team of two gentlemen (Daniel and Hakim). They welcomed us and our adventure began. We visited, the Murchison Falls, Ziwa Rhino Sanctuary, Kibale Forest and Queen Elizabeth National park. We slept in standard lodges, fed on nice meals. The highlights for our safari were: hiking to the top of the Murchison falls to see how the water flows from such a great height with a loud roar and the boat trip on the Kazinga channel where we saw the most animals and birds. Note that the temperature is always warm in these parks, therefore carrying light clothes with you would be a great idea. Our guide (Daniel) was extremely knowledgeable and taught us a lot about the animals plus the country's culture. I hereby recommend African Wild Tours to anyone who has plans to visit Uganda.
---
{{ review.user.profile.user_type_display }}

Netherlands
Countries visited:

Visited: Dec. 2015
Reviewed: Apr. 04, 2016