Main focus:
Mid-range safaris
Languages:
English, French
---
Offers tours in
Tanzania
---
About Afric'Aventure
Afric'Aventure was established in 2001 and is managed by Anne Saels who was born in Congo (DRC) and has lived almost all of her life in Africa. Year after year, a small, passionate team has built up, which tries to give a professional and personalized service in a friendly environment. A new safari is planned and organized for each client. Itineraries are personalized secure scheduled or chartered flights and chosen accommodation. Companies we are working with are chosen for the service they give. Our promotion is done mainly by recommendation, and this is an excellent reason to give you the best service possible. Our aim is to be recognized as a quality safari's organizer for Southern Tanzania, and therefore, we'll give you the best!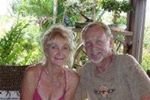 Visited: Oct. 2014
Reviewed: Jun. 26, 2020
We've visited many national parks in eastern African, but our safari in Selous and Ruaha shall remain one of our best memories. These two parks are still free from the hordes of tourists, with superb scenery and animals who were not shy.
A big thank you to Afric'Aventure, who suggested our a la carte itinerary with some lovely surprises to celebrate our wedding anniversary.
All of the lodges were excellent, with a special mention to Kwihala Camp in Ruaha, where the welcome we received was so nice and the guide had a rare competence and motivation.
We only have one wish: to return!
________________________
Nous avons visité beaucoup de parcs nationaux en Afrique Australe mais notre safari à Selous et Ruaha restera l'un de nos meilleurs souvenirs !
Ces deux parcs sont encore préservés du tourisme de masse, les paysages sont superbes et les animaux peu farouches.
Grand merci à Afric'Aventure qui a su nous proposer un programme a la carte avec de belles surprises a l'occasion de notre anniversaire de mariage.
Tous les lodges étaient excellents, avec une mention spéciale à Kwihala Camp de Ruaha , ou l'accueil est super sympa et les guides d'une compétence et motivation rare.
Nous n'avons qu'une envie c'est d'y revenir.

---
{{ review.user.profile.user_type_display }}

Belgium
Countries visited:







Visited: Oct. 2014
Reviewed: Nov. 15, 2014
Show more