Main focus:
Mid-range safaris
Languages:
English, French
---
Offers tours in
Tanzania
---
About Afric'Aventure
Afric'Aventure was established in 2001 and is managed by Anne Saels who was born in Congo (DRC) and has lived almost all of her life in Africa. Year after year, a small, passionate team has built up, which tries to give a professional and personalized service in a friendly environment. A new safari is planned and organized for each client. Itineraries are personalized secure scheduled or chartered flights and chosen accommodation. Companies we are working with are chosen for the service they give. Our promotion is done mainly by recommendation, and this is an excellent reason to give you the best service possible. Our aim is to be recognized as a quality safari's organizer for Southern Tanzania, and therefore, we'll give you the best!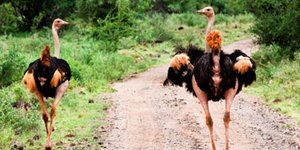 Visited: Apr. 2016
Reviewed: Sep. 22, 2020
I've travelled to Africa over 70 times, but this must have been the best organised trip of them all.

It was a two week trip with my wife and kids as well as our friends with their kids. We did 7 days on the main land (Tanzania) and 4 days on Zanzibar.

Anne and her team were just amazing.

The difference is in the details.
• Our pickups were always waiting for us at least 15 minutes before the pickup time
• The drivers were well-trained and spoke perfect English. One of them even spoke French and German, too.
• Hotels were reminded an hour before our arrival that we were on the way
• Birthday surprises for the kids were organised without us even asking for it
• The locations we stayed at were sooo much better then anything I've experienced before
o They were exclusive
o Not typical touristic
o Breathtaking
• All-in-all, it was a true Africa experience without the stress I've gotten used to as in Africa, you could expect delays, paperwork, mistakes, but everything was just perfect on this trip.

It wasn't the cheapest holiday I've had in Africa, but it was more than worth the money because:

Southern Tanzania isn't very touristic and they want to keep it that way, so the park fees, hotels, are a little more expensive then those in Kenya, South Africa,

Therefore, when on safari, you hardly ever see another car. I've been on other safaris where it was hard to take a picture of a lion without another car on it. Not during this vacation!

You can really enjoy nature by immersing yourself in it.

At hotels, (At least those booked by Africaventure) you don't even notice the other tourists as is smaller, and set up in a way that you have your own space where you can enjoy everything around you. Of course, you can mingle and share experiences at the bar if you wish, but you're never disturbed by noisy tourists.

When talking to some people we met whilst on safari, they told us stories that I couldn't ever imagine happening on Anne's watch.
One of them, when leaving on safari, had to pay extra to sit at a window seat in their safari jeep, as the rate only included a middle seat.
We had a jeep per family, am I glad we didn't pick the cheapest option!
I can't tell you how amazed they were that our whole trip had been stress-free from arriving at Dar Es Salaam airport.

I could write pages on the simple things that Anne's team at Africaventure took care of to make this a dream vacation.

For example, they always include a flying doctors contract in every vacation they organize. I didn't even know this was included! Of course you hope to never need it, but it does feel reassuring that you can count on immediate help in case you get sick,or break a leg or something.

Africaventure's personal touch was clear in everything.

I really want to thank Anne and her team at Africaventure for everything they've done!
---
{{ review.user.profile.user_type_display }}

Belgium
Countries visited:
Visited: Apr. 2016
Reviewed: Apr. 29, 2016
Show more