Main focus:
Mid-range safaris
---
---
About Afrika Hub Vacations
Crocodile Racers Adventures (CRA) is a Kenyan owned based organization and a registered tour operator incorporated in 2006. We specialize in planning, consulting, facilitating and coordinating diverse adventure excursions, beach and bush safaris for individuals, families, corporate entities and group safaris. We also handle hotel /lodge bookings, car hire, domestic /international flight packages among other tourism services. Operating with honesty and dignity at all times.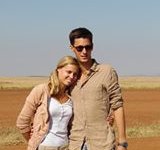 Visited: Aug. 2015
Reviewed: May. 24, 2019
Back from a "3 days/2 nights" in the Mara, we were wondering if it was normal that: - when we ask us be ready at 7 am to be picked up by our driver in Nairobi, we leave Nairobi at 10 am, after 3 different places waiting for something we don't want to explain to us, - when we are supposed to be maximum 8 in our van, we spend the 3 days at 9 pax including a 6-month baby crying, the other people paying 360 USD pp (70 less than us) for exactly the same prestation + water included in their package, not in ours (they also told us they were very angry because supposed to be 6 max in the van for this price...)? - when we are supposed to arrive "on time for lunch" at Maasai Mara, have a rest and make our 1st game drive around 4 pm, we in fact arrived at 4 pm at the camp (after an awful lunch in a self service on the road) and entered Maasai Mara at 5.30 pm (30 minutes game drive!) - when it is question of coming back to Nairobi, then, our guide proved us he can be on time: Considering leaving the Maasai Mara, it was impossible to wait a minute more in the camp, whereas making us wait 3 hours on the first morning did not necessitate any explication or excuse... Crocodile answered they were "very much apologetic on what took place", and "wish you had chosen a private safari". Obviously, "it is not practical to offer any commercial refund". If you're planning a trip to Mara or Amboseli, you'd better choose Sun Splash Safaris, you'll get what you pay for (and for less money) with a real organization (been to Amboseli with them).
---
{{ review.user.profile.user_type_display }}
France
Countries visited:
Visited: Aug. 2015
Reviewed: Sep. 30, 2015
---
Overall rating
Cleanliness of vehicle
Meet and greet team
Quality of itinerary
Responsiveness of staff