Main focus:
Budget safaris
---
---
About Amazing Memories Safaris
Amazing Memories Safaris was born of a commitment to offering travelers fresh and affordable experiences of the Africa we know and love and making trip planning a breeze with quick response and great service. We You will get tailor-made packages that will suit your interest and budget. Whether you are looking for honeymoon safari, beach holiday, Wildlife Safari, camping safari, conferencing, or on a business trip, Amazing Memories Safaris is your best partner.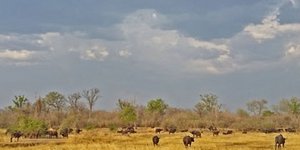 Visited: Feb. 2020
Reviewed: Sep. 27, 2020
This is my 3rd time making my travel plans with Amazing Memories Safaris. It is not surprising to me why they have "Amazing" in their company name. You could not ask for a better Tour Operator. Anne and Joseph have become like family to me. On this trip, I even got to meet their young son. I was very excited about that but I think he found Baby Shark more exciting. Anne and Joseph's skills truly complement each other. From the minute I contact them to let them know I'm planning a trip, they are there to answer every question, make suggestions and run interference when a curveball comes up. Since this was my 9th trip to Kenya, they know the places I like, my allergies, that I like a full size bed (even though I travel solo), what I like to do while in Nairobi and that although I'm exhausted from the long flight, I bounce back pretty quick. There is nothing that makes me happier after 17 hours of flight than seeing my checked bag arrive and then stepping outside the terminal and finding Anne, her husband Joseph, and my Nairobi driver and friend Joseph 2014 (I first met him in 2014) with smiles and enthusiasm. I know from that moment on, that even if I have a concern, all will be wonderful and I'll be taken care of. I spent my full Nairobi day with Joseph 2014. He is so engaging. He is always prompt at picking me up to make sure we get to the public visit at the Sheldrick Wildlife Trust with plenty of time to spare. He shares my love of the elephants too. This time, in addition to my usual elephant visits, Kazuri and Karen Hub market shopping, we also both enjoyed visiting a new gallery, Matbronze (at the suggestion of a friend). Then at the end of the day, we made our way to Carnivore Restaurant for dinner with Anne and Joseph and an evening of laughs. Since rain heavily impacted my last trip in March 2018, it was suggested maybe I wanted to try coming in February as it typically is less rainy. I think Mother Nature missed that memo. The rains came early and although it didn't impact the wildlife I saw, it did cause some transport issues. Anne was always on top of it. It is a slower time to travel (good news is that lodging prices are less) (bad news is that the bush planes require a minimum of 2 seats being booked). The heavy rains had caused connecting bridges to be washed away so that meant that air strip and ground route changes were necessary. Anne would keep me informed via email and also let my guide Daniel know the latest updates. There is no controlling Mother Nature and sometimes you just have to go with it. But all was as they say, "hakuna matata". This was my 5th time having Daniel for my guide. As a fellow photographer, he knows how important lighting and positioning the vehicle can be. We have a great time swapping photo tips, catching up on things since my last visit and solving the world's issues. He has an excellent ability to spot animals, a great sense of humor, communicates well and generally spoils me rotten. A guide can make or break a trip, and Daniel sure makes mine. Time always flies so quickly and before I knew it, it was time to arrive back into Nairobi, to check into my day room and prepare for the long flight home. Even though sad to leave, it was wonderful to see Anne and Joseph and Joseph 2014 come to the hotel to hear about the trip, go over any concerns, and share more laughs before heading to the airport. Thank you to all for looking after me so well. I can't wait to see you again on my next adventure!
---
{{ review.user.profile.user_type_display }}

United States
Countries visited:
Visited: Feb. 2020
Reviewed: Mar. 02, 2020