Main focus:
Budget safaris
---
---
About Amazing Memories Safaris
Amazing Memories Safaris was born of a commitment to offering travelers fresh and affordable experiences of the Africa we know and love and making trip planning a breeze with quick response and great service. We You will get tailor-made packages that will suit your interest and budget. Whether you are looking for honeymoon safari, beach holiday, Wildlife Safari, camping safari, conferencing, or on a business trip, Amazing Memories Safaris is your best partner.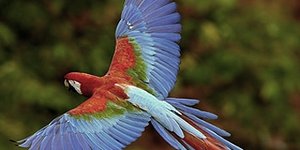 Visited: Jun. 2016
Reviewed: Feb. 26, 2020
I went on a 8-day safari trip to Masai Mara, Lake Nakuru, and Lake Naivasha recently (March 2016). I have nothing but praises to extend to the Amazing Memories Safaris company staff who has been instrumental in making the trip a memorable one. Many thanks and gratitude to the following folks which I have had the honor and pleasure to interact and/or meet before and during my trip in Kenya: Anne, the reservations manager, right from the start, demonstrated that she is a very hands-on manager who is in personal contact with potential and present clients. She is very responsive towards emails inquiries and client requests and offer insightful suggestions on how to improve itineraries during the planning stage. Beware, however, as emails from Anne come at all hours, so if there's any constructive criticisms I should raised, it is for her to go to bed a little earlier and get more sleep! It was also a very nice gesture to have her personally checked-in with me towards the end of the safari trip to ensure that everything went well. Moses, (driver/guide #1) with a fantastic sense of humor and many years of safari guiding experience under his belt. Moments with him as the driver/guide is never dull, as he will entertain you with many animal facts, as well as … human's – be sure to ask him the story of Masai warriors with muzungu women. Efficient and with a keen sense of animal identification and detection, game driving with Moses is always a new adventure. Special props to him for locating me a black rhino in the vicinity of Talek Gate at Masai Mara – rare sighting! Simon (driver/guide #2). One gets the sense of hakuna-matata (no worries) and pole-pole (slow-slow) when having Simon as the driver/guide. Both are desirable qualities, because Simon has incredible amount of patience in indulging in photography opportunities, possesses a wealth of animal knowledge that he happily shares with others, and most importantly, loves the wildlife. Much appreciation to him for bringing me on a boat ride at Lake Naivasha (a stop that was not planned on the original itinerary) for some birds and hippo-viewing within the peaceful, serene surroundings. Amazing Memories Safaris may be a smaller company compared to the big safari outfitters out there in Nairobi, but its strong work ethics has bought me over: reliability, driver/guides' acumen for animal detection/identification, and infectious enthusiasm for the wildlife. Based on my experience with Amazing Memories Safaris, I have no hesitation in engaging them again or recommending them to friends/families who are interested in going on a Kenyan safari trip.
---
{{ review.user.profile.user_type_display }}

Netherlands
Countries visited:
Visited: Jun. 2016
Reviewed: Jul. 14, 2016