Main focus:
Mid-range safaris
Languages:
English, French, German, Spanish, Swahili, Xhosa
---
---
About Chaz Tours and Travel
Chaz Tours and Travel is a full-service tour agency dedicated in providing totally reliable and practical tour and travel solutions as it offers most competitive rates in the market. At Chaz Tours and Travel we expertly handle local and international travel services; We provide our customers with different types of safari packages that include Family Safari packages, luxurious safaris, budget safaris, honey moon safaris, beach safaris, wildlife expeditions, mountain climbing safaris and cultural safaris. Chaz Tours and Travel is composed of dedicated employees, a full service organization dedicated to the ideals of personalized service, competence, reliability and stability and is made up of an aggressive core group of experienced professionals. Chaz Tours and Travel is a destination and tour packages travel agency in Kenya and Namibia.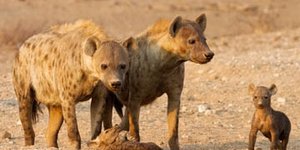 Visited: Oct. 2017
Reviewed: May. 29, 2018
James worked very closely with my husband and me to customize our first safari to ensure we experienced exactly what we wanted within our budget. Our safari was fantastic! from beginning to end, everything aspect of the trip through Kenya and Tanzania across the Ngorongoro Crater, Serengeti and Masai Mara was seamless, breathtaking, fun, educational and memorable. The Chaz Tours and Travel team including Martin and Joseph, our guides, were consummate professionals, incredibly knowledgeable, enthusiastic and a joy to be with. Part of what made our experience so fantastic was that Chaz Tours and Travel took care of all the details. They guided us as far as what to pack, how much our luggage should weigh, what vaccines to take, etc. Chaz Tours and Travel handled all our our lodging, transportation on air and land, meals, etc. We were amazed at the level of service everywhere we went. We traveled in luxury, even and especially at the tented camp. We experienced the most unforgettable landscapes, animals, people and cultures. If you are dreaming of a safari, you should definitely choose Chaz Tours and Travel! P.S. We went at the end of October and there were no mosquitoes and saw lots of baby animals and the wildebeest/zebra migration!
---
{{ review.user.profile.user_type_display }}

Kenya
Countries visited:
Visited: Oct. 2017
Reviewed: May. 27, 2018
Show more