Main focus:
Budget safaris
Headquarters:
United States
Languages:
English, French, Spanish
---
---
About eTrip Africa
E-Trip Africa is the newest division of Worldwide Travel Group LLC, a registered tour operator based in the United States. Founded to provide a responsible alternative for traveling in Africa, E-Trip Africa focuses on creating memorable experiences that are readily accessible to people from all walks of life.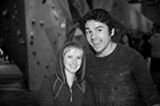 Visited: Aug. 2013
Reviewed: Dec. 31, 2018
Embarking on a journey as daunting as Mt Kilimanjaro took a degree of level headedness in almost every stage, from choosing a travel company to gear selection to final summit night courage, but the reward of Uhuru Peak and the view from the Roof of Africa makes every test more than worth it. The best piece of advice I could give anyone contemplating the climb is to have confidence in every decision you make let this carry you to the top! The keys to building this confidence are gained by doing thorough groundwork before you reach Tanzania in the areas of physical conditioning, gear selection, and guide company selection. While I was going through this process I was interning in South Africa where I did not have a lot of time or the available resources to devote to training or finding the right gear, so in hindsight I learned that tour company selection is one of the most important choices you make, they end up being the glue that holds what training, gear, and confidence you have together and if you make the right choice they'll help you make up for any area in which you're lacking. That being said, the company I choose was E-Trip Africa and I could not have been happier with my selection. From my timely pick-up and conversation with Ben at Kilimanjaro International to our thorough pre-trek team meeting, I had full confidence I would make it to the top. Our lead guide, Caspar, was heavily suave with experience and led us through a detailed examination of all our gear making sure we had was up to par, with a convenient rental company representative there to offer any needed supplies at a very reasonable rate. As we set out along the Lemosho route my team of six trekkers quickly realized we would be rubbing elbows with several other groups as we had chosen a full moon hike (still definitely recommend this despite the crowds, they thin out closer to summit). This close proximity to other groups for the first few days allowed us to eye the other amenities offered by other companies and we quickly realized how lucky we were in comparison. Our "dining hall" tent (A.K.A. the Jack O' Lantern) allowed us to enjoy our frequent warm beverages and near gourmet meals in protection from the elements, and our team consistently surged past on the trail, always pausing to say jambo, to have camp set up for us at the next site. The unique dynamic energy that each and every member of our team brought to the journey became essential in trying times of fatigue, sickness, and hardship. Caspar quickly adapted to any unforeseen circumstances ranging from impromptu birthday celebrations to accommodating a team member who felt the affects of AMS. An important aspect I hadn't thought about in a company was how well they are able to adapt to different fitness levels within a group, something that Caspar and his team did very well. Summit night he timed our ascent perfectly to watch the sunrise from Stella Point. Definitely recommend!
---
{{ review.user.profile.user_type_display }}

United States
Countries visited:
Visited: Aug. 2013
Reviewed: Dec. 12, 2013
Show more
---
Overall rating
Cleanliness of vehicle
Meet and greet team
Quality of itinerary
Responsiveness of staff