Main focus:
Budget safaris
Headquarters:
United States
Languages:
English, French, Spanish
---
---
About eTrip Africa
E-Trip Africa is the newest division of Worldwide Travel Group LLC, a registered tour operator based in the United States. Founded to provide a responsible alternative for traveling in Africa, E-Trip Africa focuses on creating memorable experiences that are readily accessible to people from all walks of life.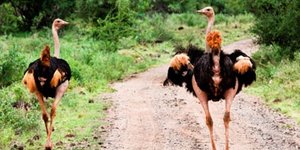 Visited: Aug. 2013
Reviewed: Oct. 14, 2020
For years I had dreams of an African Safari. In 2009 I started doing some research to plan the trip. I was put off a bit because the prices were so high. So I took an extra part-time job to save up the extra cash needed to make it a perfect trip. Then in 2012 we started doing the research again and it took us a while to find the right company, we sent emails to some 50 safari companies we found on this site and on TripAdvisor. We told them the parks we wanted to see, the dates and our overall budget. In the end E-Trip Africa was able to organize the trip at luxury camps and still stay within our budget. Several of the companies told us we would have to settle for a camping budget trip, which surprised me. Others told us they could not do anything within our budget. When we arrived at the Nairobi Airport it was a little crazy, because there was a fire. The manager, Ben drove from the office in Arusha to meet us and introduced us to our Masai Driver named Joseph. Joseph was wearing Massai cloths the whole trip. Not only did he share a lot about his culture, but he was very friendly and never left a dull moment during the long drives. Ben and Joseph took us back to the hotel, where we had a briefing about the trip and he gave us a local telephone to borrow, which saved us some money when calling the folks back in the states. We set-off the next morning and Joseph gave us plenty of good information during the long drive to Samburu. Driving past Mt. Kenya was amazing and then it was very dry in Samburu. The wildlife was nice as it was the first time to see Elephants outside of a zoo. We spent two nights there before heading to Lake Elementaita and Lake Naivasha. The Rhinos were so cool and I can't imagine people are killing them left and right to sell the horns to China. We stopped in Hells Gate to take a bike ride, which was nice as we had been spending too much time sitting in the car. Then we went to the home area of Joseph. The Masai Mara... It was perfect to see the millions of wildebeest. Joseph had a very good sense of the wildlife and he could tell us what they would do. You can tell he really enjoys spending the time watching the animals. Twice I was a bit confused, because there were lots of cars around a kill and Joseph drove and parked about 300 feet away. Then all of the sudden the Lions got up and walked down to the water and shade near us, we had the best seat in the house. The first two days we did not see any Cheetah. I was a bit down as I wanted to see them. I now understand that they don't like to be around all these other animals. So Joseph took us on a two hour drive to the middle of no where. And then all of the sudden he said look. We were alone, not another car in site. He said look very closely and there was a cheetah walking towards us. We sat for a few hours watching him. Then all of the sudden it bolted towards a small group of antelope taking one down. It was just like on Discovery. The next day we headed back to Nairobi where we met Ben another time. He was really excited to hear our stories and Joseph was telling them even better than anyone. You could sense that Ben and Joseph also have a very good personal relationship. The next morning we were back to Nairobi Airport and then on our flight. A special thanks to Ben, Aurelie and the rest of the team at E-Trip Africa for organizing the trip. And an enormous thank to Joseph, who I now think of as my Massai brother.
---
{{ review.user.profile.user_type_display }}
Countries visited:
Visited: Aug. 2013
Reviewed: Sep. 14, 2013
Show more
---
Overall rating
Cleanliness of vehicle
Meet and greet team
Quality of itinerary
Responsiveness of staff