Safari suitability:

7/10
Write a review
For the truly intrepid, a long journey and large animals await.
Total area:
471 km² (1,726 mile²)
Anti-malarial:
Not required
---
What YAS members think
Most-visited month:
November
* Crowded parks have a lower rating
---
Highlights
A bloat of hippos, a bask of crocodiles, a parade of elephants
An isolated wilderness
An ever-varying, seasonally driven scape
About Katavi National Park
Truly remote Katavi National Park is situated along the Rukwa Rift Basin in western Tanzania, 550 km (340 miles) from Mbeya and 1,250 (800 miles) from Dar es Salaam. First protected in 1911 and established in 1996, 471 km² (1,726 mile²) Katavi is Tanzania's oldest national park. Animals are abundant, particularly along the seasonal Katuma River and lakes Katavi and Chada; visitors, however, are few. Found within this isolated wilderness are waterfalls, woodlands, shrublands, grasslands and seasonal river floodplains. Much of the park's scape is weather-dependent—the wet season's flowing Katuma River reduces to a mere stream in the dry season, when it beckons thirsty animals to sip at the area's sole source of drinking water. Many species of medium to large mammal, including zebra, buffalo, impala, elephant, giraffe, lion and leopard, make their home in Katavi, and crocodile and hippo are known to wallow and snap in its seasonal rivers and lush marshes. Elephant, too, is plentiful.
Canoeing safaris, walking, driving and camping await those who visit this isolated park.
When is the best time of year to visit Katavi National Park?
Travelers willing to make the long trek by vehicle, railway or chartered plane should visit during the dry season (between May and October); park roads often flood during the rainy season (October to April), which drops 930 mm (36.6 inches) on the area.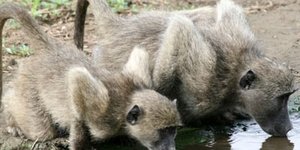 Visited: Oct. 2018
Reviewed: May. 09, 2019
Serengeti sees over 300,000 safarians each year; Katavi, about 1,000 (with half of them local Tanzanians). These two orders of magnitude have serious consequences. In the peak of the tourist season in Ngorongoro up to $80 US may descend onto a single poor cheetah, turning the whole experience into something like a zoo. In contrast, during our six days in Katavi, we would get excited if we saw another vehicle in the distance; cars being rarer and harder to spot than elephants or giraffes.
* Crowded parks have a lower rating
---
Safari guru
Tanzania
Visited: Oct. 2018
Reviewed: May. 09, 2019
Domestic flights to Katavi National Park
Due to its remote location on the opposite side of the country to Dar es Salaam and Arusha, domestic flights are recommended for Katavi.
Safari Air Link offers scheduled flights from Ruaha to Katavi. Check the schedule before booking as timetables change and flights aren't daily.
The following airlines travel to Katavi National Park