Main focus:
Budget safaris
Headquarters:
South Africa
---
---
About Africa 2000 Tours
Africa 2000 Tours is a company operated by people who have been involved in Travel and Wildlife Safaris since childhood, people who were raised in and have traveled through the remote regions of Africa and beyond. We would like to share our passion for Africa with you, its wildlife, culture, and outstanding scenery. With our wide diversity of expertise we will plan every aspect of your African holiday / vacation,ensuring you a very personal experience.We specialize in tailor made safaris for families, small groups of friends, and the single traveler to Botswana, Zambia, South Africa, Malawi, Namibia, Tanzania, Kenya, Madagascar, Mozambique and the Seychelles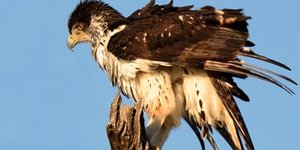 Visited: May. 2013
Reviewed: Jan. 02, 2018
Gill and Graham Maskell, owners of Africa 2000 Tours, have made me a fan of travel in Africa! When I signed up for a small group tour of South Africa, I felt a mixture of excitement and apprehension. Africa, exciting, mysterious...would it be dangerous? Clean? Welcoming? I didn't know. Within a few minutes of meeting Gill and Graham, who picked up the twelve of us at the Cape Town airport, I was reassured and comfortable, all set for a great trip. And what a great trip it was! Our three weeks were a mix of culture, history, good food/wine, and those wonderful animals. All of the accommodations booked by G&G were wonderful, as they have previously visited all of the places they recommend, the attractions well chosen and the arrangements smooth. What was really special, though, was the company of Gill and Graham themselves. They are excellent and knowledgeable guides, able to answer questions about wildlife, apartheid, tribal histories, etc., but more importantly they are warm and wonderful people. Traveling with them is like traveling with great friends. Graham's witty puns were a bonus! (He said he adjusts their frequency to the tastes of the group - well, our group loved them!). When we said good-bye, each of us felt the wrench of leaving the company of special friends. This trip was mostly in South Africa, with just a few days each in Zambia and Botswana. Gill and Graham/Africa 2000 are experts at travel in South Africa, Zambia, Botswana and Namibia. They have traveled extensively in all of those countries, staying in luxury lodges as well as bush camping, so they can arrange any type of holiday that you prefer. I can hardly wait to return, visit my new friends, and have them show me more of that wonderful, beautiful, exciting continent.
---
{{ review.user.profile.user_type_display }}
Countries visited:


Visited: May. 2013
Reviewed: Jul. 16, 2013
Show more