Main focus:
Budget safaris
---
---
About Amazing Memories Safaris
Amazing Memories Safaris was born of a commitment to offering travelers fresh and affordable experiences of the Africa we know and love and making trip planning a breeze with quick response and great service. We You will get tailor-made packages that will suit your interest and budget. Whether you are looking for honeymoon safari, beach holiday, Wildlife Safari, camping safari, conferencing, or on a business trip, Amazing Memories Safaris is your best partner.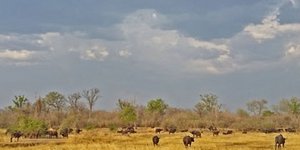 Visited: Mar. 2018
Reviewed: Oct. 06, 2019
Amazing Memories Safaris has become to me like an extension of my family (all positive). Anne and Joseph are a wonderful couple whose skills complement each other to make sure no detail is missed. I had such a pleasant experience with them in March, 2017 that there was no question about choosing them again and no need to get additional quotes because their pricing is very fair. Even though this was my eighth trip to Kenya, there are always a few questions that come up. Anne is prompt to respond with the answers. I had chosen my own itinerary and lodging for this trip. But we got a big curve ball the day before I was to leave the states. Anne notified me that the camp where I was to stay five nights (Offbeat Mara - where I stayed last year) had been flooded and they told her I would have to find other accommodations. Anne immediately sent me an email to let me know. I felt a panic. She suggested two other places for me to consider that were comparable prices. I looked at their reviews, got back to her with my choice, and she immediately confirmed my new lodging. Offbeat had a special offer of getting one night free when paying for three. Unfortunately, Eagle View did not offer this. When the change was made, Anne informed me that Amazing Memories would take care of that added cost. Thanks to her quick action, it all worked out. On arrival into Nairobi, Anne, Joseph, and another Joseph (my Nairobi guide) were there to greet me with big hugs and smiles. After the long flights and the late hour, it is so nice to see such welcoming people waiting. The trip to the Fairview Hotel was short and they made sure everything was perfect on check in. We discussed my arrangements for the next day for my pick up time by Joseph in order to do some shopping and visit my elephants at the David Sheldrick Wildlife Trust both for the 11am public visit as well at the adoptive parent visit at 5pm. After the evening elephant visit, Joseph and I met Anne and Joseph at the Carnivore restaurant where I was treated to a lovely dinner and great conversation. Such a special time. Joseph N., my Nairobi guide, that I first met in 2014, is amazing at navigating the traffic in Nairobi. His pleasant personality and sense of humor go a long way to making you feel at home. Communication with the camps was perfect. On arrival, they all knew I preferred a tent with a full size bed and what my dietary requirements were. As a photographer, my guide Daniel, who I have traveled with 4 times, is a real gem. He is an excellent spotter, even in challenging situations. As a photographer himself, he knows how to position the vehicle to get the best shots. He's a great conversationalist, and always fun to travel with. When arriving back into Wilson from Meru, I changed airlines. Joseph, my Nairobi driver, was waiting for me to assist with the transfer. There was a three layover between the flights so I was taken to Aero Club to enjoy lunch. The food there was very good. On my final day in Kenya, Anne met me at Wilson after my flight from the Mara, with driver Joseph. She wanted to know how everything went, especially at Eagle View which was not my initial choice. All went fantastic. She was also able to extend the Eka hotel regular day room check out time from 6pm to 7:30pm which really was nice and gave me time to repack and have some food before I was taken to the airport for my midnight flight. I can't say enough good things about Amazing Memories Safaris. They are extremely professional, going above and beyond to make sure every part of your trip expectations are met perfectly. They are much more than a tour operator. Their warm, welcoming hospitality is yet another reason why I return to Kenya over and over.
---
{{ review.user.profile.user_type_display }}

United States
Countries visited:
Visited: Mar. 2018
Reviewed: Mar. 30, 2018