Main focus:
Budget safaris
Headquarters:
South Africa
Languages:
English, French
---
---
About Biwakwango
Biwakwango is a South African based Tour Operator with 18 years of experience in creating and running exciting and unique tours. We strongly focus on low impact tourism such as walking, hiking and small groups. Biwakwango was founded by Thierry, born in France and permanently living in South Africa for more than 20 years. His passion for Africa, wildlife, adventure travel, nature conservation and the well being of local people are his fundamental approaches for a sustainable tourism.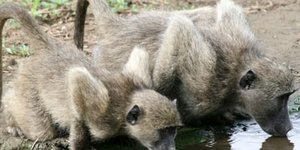 Visited: Oct. 2015
Reviewed: Dec. 27, 2018
Biwakwango was our local service provider on a family trip to Earth Aventure. For us and our two children (11 and 13) it turned into private trip (2 participants couldn't embark from Europe). What a great experience we have lived: whale watching, sea lions and penguins in the south. A little bit of activity when we climbed Table Mountain! Then St. Lucia, Imfolozi and its cortege of rhinos, hippos, crocs ... A quick pass through Swaziland before Kruger National Park. Complete opposite of Blyde River Canyon: finally a varied experience that our children could enjoy and that was executed perfectly by our guide, Thierry Biwakwango. He knew to recommend things that suited us and created a great atmosphere: it felt like family or "between friends"! _____________________________________________________________________________________________ Biwakwango était notre prestataire local sur un voyage famille Terre d'Aventure.Pour nous et nos 2 enfants ( 11 et 13 ans)cela s'est transformé en voyage privé (2 participants n'ayant pu embarquer en Europe). Quelle belle expérience nous avons vécue : observation des baleines, manchots et otaries au Sud . Un peu de sport quand même pour monter Table Mountain! Puis St Lucia, Imfolozi et leur cortège de Rhinos, Hippos, Crocos...Petit passage au Swaziland avant le Kruger.Un final du côté de Blyde River Canyon.Finalement une expérience très variée, idéale pour les enfants et portée par notre guide.Thierry de Biwakwango a su nous proposer des choses qui nous correspondaient et créer une ambiance géniale : on se sentait comme en famille ou "entre potes"!
---
Countries visited:
Visited: Oct. 2015
Reviewed: Nov. 11, 2015
Show more