Main focus:
Budget safaris
Headquarters:
South Africa
Languages:
English, French
---
---
About Biwakwango
Biwakwango is a South African based Tour Operator with 18 years of experience in creating and running exciting and unique tours. We strongly focus on low impact tourism such as walking, hiking and small groups. Biwakwango was founded by Thierry, born in France and permanently living in South Africa for more than 20 years. His passion for Africa, wildlife, adventure travel, nature conservation and the well being of local people are his fundamental approaches for a sustainable tourism.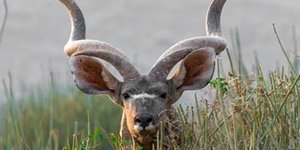 Visited: Nov. 2015
Reviewed: May. 22, 2019
We wanted to combine a safari trip to South Africa with a couple of friends. We were keen to get off the beaten path. We contacted Thierry Biwakwango, a local agency, and his proposals were consistent with our expectations. Our choice was wise. We left for 19 days in November 2015, where we did two safaris (Kruger and Imfolosi) and treks (Swaziland, Drakensberg rise of the amphitheater, Lesotho and Table Mountain). We also explored the Cape region and its vineyard. Thierry quickly put us at ease. We found more than a guide: we found a true friend. His extraordinary knowledge of wildlife, his ability to take us hiking in the beautiful and unusual places, his devotion to us all the varied cuisine days have made this trip unforgettable and highly recommend this agency. ______________________________________________________ désirant avec un couple d'amis faire un voyage en afrique du sud alliant safaris, treks hors des sentiers battus, nous avons pris contact avec Thierry de Biwakwango agence locale, ces différentes propositions correspondaient à nos attentes. Ce choix s'est avéré très jucicieux. Nous sommes partis 19 jours en novembre 2015, nous avons 2 safaris(Kruger et Imfolosi) et treks (Swaziland, Drakensberg montée de l'amphithéatre, lesotho et montain table) et la découverte de la région du cap et ses vignobles.Thierry nous a très vite mis à l'aise et plus qu'un guide nous avons trouvé un véritable copain, son extraordinaire connaissance de la faune, sa capacité à nous faire randonner dans des endroits magnifiques et insolites, son dévouement à nous faire la cuisine variée tous les jours ont rendu ce voyage inoubliable et nous recommandons vivement cette agence.
---
{{ review.user.profile.user_type_display }}
France
Countries visited:
Visited: Nov. 2015
Reviewed: Jan. 06, 2016
Show more