Main focus:
Mid-range safaris
Languages:
English, French, German, Italian, Spanish, Swahili
---
Offers tours in
Tanzania
---
About Happy World Safaris
Happy world safaris is a Tanzania privately owned tour company based in Arusha, Tanzania delivering bespoke programmes that allow the traveler to experience the awe of Africa. We are Tanzania Best Safari Outfitter with experience in preparing remarkable Safaris to all National Park and Game reserves. Delightful your vacation in Tanzania by meeting our staff and start planning your holiday today. Make the most on the superb wildlife viewing in top-class parks. The annual great migration where over 2.5 million wildebeest and zebra migrate from Serengeti National Park in Tanzania to Masai Mara National Reserve in Kenya. Authentic African wilderness with unfenced parks, dirt roads and endless plains. Choose a wide range of budget, mid-range and luxury safari options. Best chimp tracking of Africa in Gombe- and Mahale Mountains National Park. Extend your safari holiday by climbing Africa's highest mountain; Mount Kilimanjaro or Climb Mount Kilimanjaro and extend your holiday with a Safari.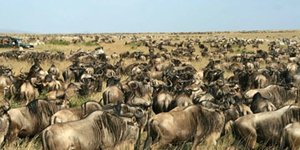 Visited: Sep. 2014
Reviewed: Feb. 04, 2018
After being married for three years and not having had a proper honeymoon, my wife and I finally decided to go on a safari. After receiving several quotes from different operators as well as recommendations on different forums and such we finally decided to go with Happy World Safaris for our 4 day Safari. We were really happy with the service they provided. Joseph, the owner, was very helpful throughout the whole planning and booking process, replying quickly to any questions that we sent him through e-mail (I think we probably sent him something like 50 e-mail messages). Making the payment was a bit problematic thanks to our bank who took three weeks to tell us that they required additional information to carry out the transfer. However, throughout all this problem Joseph was very helpful and patient. Now, the safari was absolutely fantastic and we were really pleased with all the arrangements that go all the way from picking you up from the airport, helping you with any shopping you may want to do in Arusha before heading off, the safari and then dropping you off at the airport again at the end of your trip. The lodges were great (Tarangire Safari Lodge, Kirurumu Manyara lodge and Ngorongoro Farm House) with great accommodation and food. The packed lunches were also quite nice. We had a well kept Toyota Land Cruiser for just the two of us so we had plenty of room to move around and get the best view of the animals. It is equipped with UK-style electrical plugs and such so you need not worry about not having power at the lodges to charge cameras and phones. HWS also provided plenty of bottled water with the 4X4. Here we have to give a special mention to our driver, Noel. Not only was he a very nice, helpful and kind guy but he was also very knowledgeable and a skilled driver. Most impressive was that he had some kind of superhuman vision that still baffles us to this day. He would sometimes stop, squint for a few second and then say "there's XYZ animal over there" and then it would take us some time with binoculars and everything just to find it. So, overall we highly recommend them for any safaris you may be planning. Great value and great service.
---
{{ review.user.profile.user_type_display }}

United Kingdom
Countries visited:
Visited: Sep. 2014
Reviewed: Oct. 02, 2014
Show more